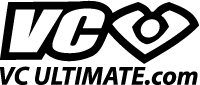 VC Ultimate is the preferred apparel partner of our Ultimate league. VC, and their sister
company Printed Performance, offer great custom and in-stock team jerseys - see below to
inquire about jerseys for your team. All league members get special benefits, which entitles
you to great discounts on gear!
VC Ultimate and our league have partnered up to offer you the best quality, locally-made
Ultimate uniforms from VC Ultimate, as well as a new line of fast, good-quality, fast and
affordable options – www.printedperformance.ca
As a 2014 league member, you and your teammates receive:
10% discount on any Printed Performance order placed at any time.
10% online-store discount for all members


Youth and Club Touring teams affiliated with our league will also receive:
50% off shorts for teams ordering two printed jerseys

2 hours of free creative art assistance for sublimated jersey orders

FREE in-stock shorts for teams ordering two jerseys, with at least one of them being sublimated

30% discount on Printed Performance orders at any time, if the team competes in VC uniforms
Current offers will always be shown on this page – check back to see what's hot, and contact VC at info@vcultimate.com at any time for a customized no-obligation quote.